CNBC recently ranked Florida one of the top five states for remote work in the US. Why move to Florida? Florida offers a tempting combination of a relatively low cost of living, plentiful career opportunities, and vacation-worthy weather.
"Florida is a fantastic emerging market for remote workers to take advantage of thanks to the sunny weather year-round, no state income tax, and still affordable home prices in its cities and beachside locales," explains Rhiannon Payne, author of The Remote Work Era. "Remote workers on the coast have the opportunity to go surfing in the morning and sit down to work in the afternoon with a smoothie and a great view. What could be better?"
When it comes to remote work, there are a few factors that matter more than others. Cities like New York often rate low for WFH-friendliness because of the lack of space, for example. For people who often need – or want – to work from home, affordable square footage is a necessity. Luckily, space is rarely a problem in sunny FL.
What are the best places to live in Florida for remote work? Here's what you need to know.
Tampa Bay/St. Petersburg
Located on the gulf coast, Tampa Bay and St. Petersburg are both part of the Tampa Bay metropolitan area. Smart Asset ranked St. Petersburg as the #5 best city for remote work in the country, with Tampa coming in at #28. Although remote work can often be done anywhere, many jobs are still somewhat locally based – so it helps that these cities have both low unemployment rates and a high number of remote-work job postings. According to data from LinkedIn, Tampa Bay ranks #3 of large U.S. cities for the highest proportion of remote work applications, coming in at 29.6% of all applications.
"In my experience, Tampa and St. Pete are amazing areas to co-work because you can find amazing wifi and atmospheres just about anywhere. My favorite spot in Tampa is Armature Works. It's right on Tampa's Riverwalk, and provides a variety of bars, restaurants, and even a coffee shop to choose from, with indoor AND outdoor seating. It's great to just set up my laptop and get work done," explains Tampa-based buyer agent Sunny Crockett. "I honestly don't do a lot of remote work in St. Pete, because Tampa is so centralized."
A plethora of co-working options, relatively low cost of real estate compared to other parts of the country, weather that allows for year-round outside lounging, and walkability in downtown St. Petersburg and Tampa only add to the allure.
"I do a lot of my remote work here in my hometown of Lakeland, which is the midpoint between Tampa and Orlando," says Crockett. "Tampa has an average of about $60k more per purchase than Lakeland, and higher taxes. But both towns offer great places to relax and get your work done. It just depends on whether you're looking for 'small town' or 'big city.'"
Remote Work Con:
No public transportation (typical for most Florida cities)
Important Remote Stats
Number of co-working locations: approximately 40
Max internet speed: 1000Mbps (At&T Fiber)
Affordability (Cost of Living Index): 100.1 (U.S. average is 100)
How Much Space Can You Get in Tampa?
Average apartment size: 927 sq. ft.
Average apartment price: $1,762
Median Listing Home Price/Sq Ft: $229
Median sold home price: $350,000
Contact a Tampa agent for more info on local neighborhoods and homes for sale.
Jacksonville
Jacksonville was ranked the best U.S. city for tech-savvy digital nomads (people who work remotely and move from city to city routinely) in a new report co-created by Zillow and Yelp. High on their list of reasons was Jax's relative affordability – along with ranking highly as a place with plentiful vacation rentals, auto/RV repairs, nightlife, outdoor activities, and more.
Digital workers who opt to live in Florida are often drawn to the state's year-round opportunities for outdoor adventures, and Jacksonville does not disappoint. With 87 miles of coastline, Jacksonville has an impressive number of beaches – and it also has the largest urban park system in the U.S., with over 400 national, state, and city parks. To finish it off, Jacksonville boasts an excellent craft brewery scene (check out Lemonstreet Brewing Co. to start with).
"Jacksonville and Northeast Florida are growing fast. We're projected to be the #2 market in 2022, per Zillow. Our weather is perfect for working from home indoors or on your patio 9-10 months out of the year," says local Realtor Cyndi Perron. "There are also hundreds of cafes throughout Jacksonville to work from. We have a number of internet providers such as Xfinity and AT&T that offer speeds from 50 Mbps to 2000 Mbps, and thousands of hot spots so you can work from the beach!"
A thriving and growing local economy ensures there are plenty of job opportunities here – including many work-from-home jobs. It's also the cheapest place to live in Florida on our list, so don't be afraid to check it out.
Remote Work Con: Jacksonville is incredibly spread out, so those who enjoy the "car-free" aspect of remote work may still find themselves in a car quite frequently – if only so they can get to the local cafe to work.
Important Remote Stats
Number of co-working locations: approximately 18
Max internet speed: 150 Mbps (Spectrum)
Affordability (Cost of Living Index): 93.5
How Much Space Can You Get in Jacksonville?
Average apartment size: 965 sq. ft.
Average apartment price: $1,411
Median Listing Home Price/Sq Ft: $168
Median sold home price: $280,000
Contact a Jacksonville agent for more info on local neighborhoods and homes for sale.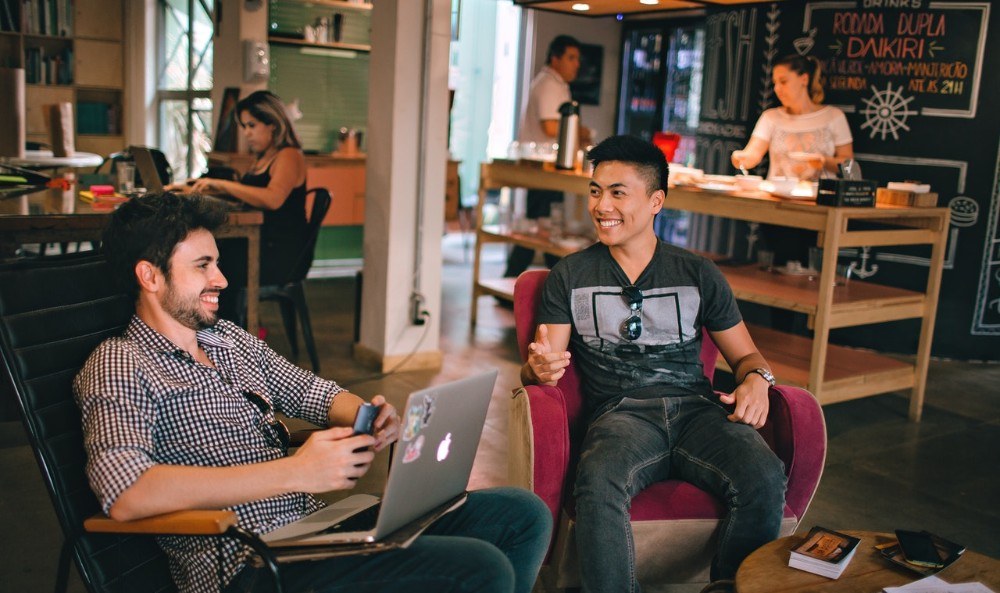 Miami
If you're a digital nomad rather than just a remote worker, Miami might be the right Florida city for you thanks to its more extensive public transportation. In most Florida cities, living outside of the immediate city center can be difficult without a car – and cities like Jacksonville are so spread out that even a bike might not cut it. Miami, though, is a more "traditional" big city in this sense. The county runs Metrobuses along with two light rail systems, Metromover (which is free!) and the Metrorail.
The biggest drawback of Miami is that it's relatively expensive compared to other Florida cities – but for many digital workers, the vibrant urban lifestyle here is worth the cost. Cost is also relative: compared to major cities like Washington, DC or Boston, you'll get a lot more bang for your buck in Miami.
Miami is a cultural mecca for a reason. Spanish is often spoken as a first language here, and it's the dining, drinking, and entertainment capital of South Florida – not to mention its famous beaches! So if you're thinking of moving to Florida and love staying busy, this could be the city for you.
Remote Work Con:
Many transplants to the area have reported it can be harder to make friends here compared to other major cities – it's also the most expensive place to live in on our list.
Important Remote Stats
Number of co-working locations: approx. 45
Max internet speed: 1200 Mbps (Xfinity)
Affordability: 118.9
How Much Space Can You Get in Miami?
Average apartment size: 886 sq. ft.
Average apartment price: $1,998
Median Listing Home Price/Sq Ft: $337
Median sold home price: $415,000
Orlando
Although Orlando is typically not the top destination for remote workers craving a beach (the ocean is about an hour's drive east), it ranks highly for its world-renowned cuisine, entertainment options, and outdoor activities (you'll love the West Orange Trail – bike along this picturesque trail while stopping at a unique pub along the way for lunch!).
HSI ranked Orlando as the best city in Florida for remote work, and the 10th best U.S. city overall based on factors like internet speeds, cost of living, and access to various co-working locations.
Orlando's job market has grown 30% over the past 10 years and shows no signs of slowing down – meaning there are ample economic opportunities in this sun-drenched city. Orlando is incredibly affordable – when you look at average Cost of Living metrics (COL), it ranks well in comparison to other popular Florida cities. There's a lot more going on here than just Disney!
"When buying a home in Orlando, it's important to know that it is a geographically large and spread-out city," recommends local buyer agent Dan Robinson. "Being centrally located and close to a highway can be a huge advantage." 
Remote Work Con:
Out of all the Florida cities, this one especially is a tourist magnet, drawing in over 70 million visitors per year. This can result in extra traffic, lines, crowds, etc. when you're trying to relax.
Important Remote Work Stats
Number of co-working locations: 18
Internet maximum speed: 1000 Mbps (Xfinity)
Affordability (Cost of Living Index): 104.1
How Much Space Can You Get in Orlando?
Average apartment size: 963 sq ft
Average apartment rent: $1,733
Median Listing Home Price/Sq Ft: $201
Median sold home price: $327,000
Contact an Orlando agent for more info on local neighborhoods and homes for sale.
Which FL Cities Should You Avoid?
Internet connectivity is key to having a successful work-from-home experience. According to BroadBandNow, Indian Lake Estates, Horseshoe Beach, Mc Intosh Suwannee, and Wacissa are the five most poorly connected cities in Florida – with Indian Lake Estate ranking worst in the state. Mari Rogers is an experienced content manager specializing in real estate. She provides valuable perspectives on the latest trends and news in the field. In the moments she's not imagining the possibilities of every derelict property on Realtor.com, she's hanging out with her longtime (feline) companion Olivia Benson.