Want to get away? Whether it's the sudden knowledge that you can work from home all the time now, or you're just trying to get away from the general hustle and bustle of city life, why not get away to a rustic log cabin that still has all the modern amenities? It also helps that they're in some pretty beautiful locations too. We broke down a few of the best and interesting log cabin homes currently for sale in Washington state, so you can find the perfect cabin in the perfect location for your "getaway".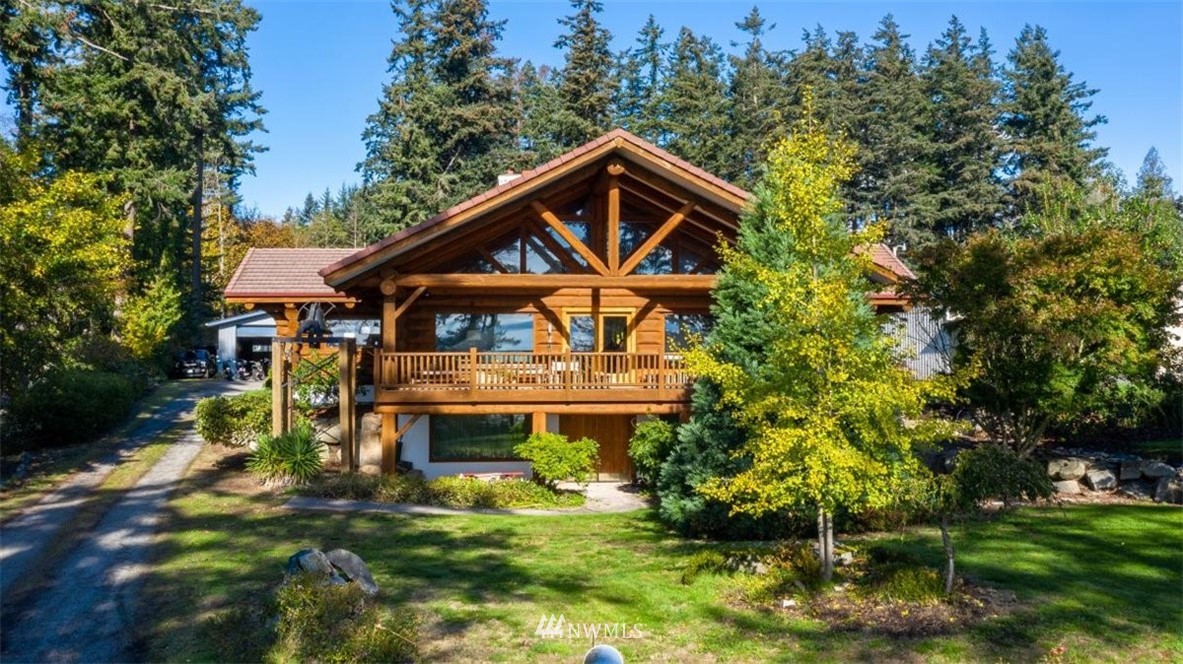 Bow, WA
Phenomenal one of a kind beach-front property on idyllic Samish Island featuring 19′ tall fireplace in great room, amazing southerly views of the bay and Olympic mountains. This home has an expansive covered deck off the main level and 2,200 sq feet of partially finished walk out basement.
Location: 10459 Samish Island Rd, Bow, WA
Price: $1,275,000
To view listing, click here.
Woodland, WA
Riverfront log cabin, custom built with vaulted ceilings and space for a wine cellar. Enjoy the serenity of this park-like setting is stunning. Take in the panoramic views of nature and the Lewis River Golf Course or fish from your backyard. This log cabin even has access to the private community boat launch!
Location: 904 NE Cedarwood Drive, Woodland, WA
Price: $878,000
To view listing, click here.
Kalama, WA
A truly magnificent Pacific Northwest log cabin just minutes from Kalama River. You'll never have to leave home with this location's huge deck and hot tub, plus an outdoor greenhouse!
Location: 211 Hartford Road, Kalama, WA
Price: $699,000
To view listing, click here.
We Make Buying & Selling Simple!
List your home for one low fee and/or buy and get thousands cash back.
Get Commission Free Realty
Cle Elum, WA
Incredible modern mountain home with an open floorpan, perfect for entertaining. Enjoy the private setting, with its open meadow and seasonal stream. A nearby walk/bike trail through the meadow leads you on an adventure to the Nelson Farm Pool.
Location: 1440 Kokanee Loop, Cle Elum, WA
Price: $1,695,000
To view listing, click here.
Edmonds, WA
This log cabin is the perfect getaway. Relax on the large deck or enjoy all that the spacious backyard has to offer. Complete with fruit trees, a garden shed and even a workshop, this property has everything you need. Plus, it's a short walk to Meadowdale Beach Park.
Location: 17924 69th Avenue W, Edmonds, WA
Price: $855,000
To view listing, click here.
Castle Rock, WA
Picture perfect log home with commanding mountain and valley views plus a 2,400 square foot shop! This beautifully updated log cabin offers open concept, light filled living. The private manicured grounds feature a koi pond, fruit trees, fire pit and two large outbuildings.
Location: 417 Agren Road, Castle Rock, WA
Price: $519,000
To view listing, click here.
Tenino, WA
This 2400 square foot log cabin sits on 5.55 acres and is ready for your horses, with a quick commute to shopping. The property is outfitted with all your equine needs plus a dog run. It even includes a camp site and green house. The possibilities here are endless!
Location: 12901 Beans Road SE, Tenino, WA
Price: $485,000
To view listing, click here.
Kalama, WA
Enjoy beautiful sunsets from this cozy, custom log cabin.This location has great outdoor living areas from decks and a patio to the fire pit and covered space by shop. Don't miss the peek-a-boo view of the river!
Location: 4409 Green Mountain Road, Kalama, WA
Price: $625,000
To view listing, click here.
Cle Elum, WA
This cozy log cabin has character to enjoy as is, or to renovate into the home of your dreams. The community has a bunk house, swimming pool, and cabana for local owners to use!
Location: 810 Aspen Springs Road, Cle Elum, WA
Price: $249,999
To view listing, click here.
Malo, WA
A beautiful log cabin getaway in the woods, can you smell the lilacs? This home is surrounded by beautiful greenery. A year round creek runs through the property and the fully fenced back yard is ready for your pets.
Location: 7415 Empire Creek Road, Malo, WA
Price: $350,000
To view listing, click here.
The right professionals to help you with your offer
Buying a log cabin with Trelora gives you a distinct advantage because we split our buyers' agent commission with you, which means you'll receive an average of $6,000 in commission refund to use as you wish. As a home buyer, you can use that refund to furnish your new house, cover closing costs, or buy a bunch of burritos. But we also have top-rated agents that provide exceptional service, whether you need to search for the right log cabin in a mountainous or forested area on a lake, consider your offer, run comps, and close the deal. Christopher has been been in the Real Estate industry for 8 years and has had the opportunity to close over 1,000 deals while acting as the Managing Broker for thousands more. Christopher is passionate about continuing to find ways to simplify, maximize, and serve Trelora's clients exceptionally well and spends his time building teams to deliver high levels of service. When not doing real estate Christopher can be seen training for marathons and ultra relays with his 2 year old daughter, eating pizza, and drinking a steady stream of Diet Coke.