Five years ago, the median home in the U.S. sold for $217,600. Today, that figure has jumped to $425,600.
In a typical home sale, the home seller pays for both the buyer agent and the listing agent's commission. Five years ago, that would've meant paying an average of $13,050 – already a hefty chunk of change. Today, that means you'll be forking over about $25,540 in equity for the same house.
Naturally, inflation does impact agents too, but enough to justify doubling their fee? Today, some sellers are saying "no."
Here's why 1% listing fees are making more and more sense to home sellers across the U.S.
Hard Truth: Agents Don't Need 3% to Do a Great Job
Advancements in technology have streamlined the real estate process, making it more efficient for agents to handle multiple transactions. This efficiency allows agents to provide quality services at a lower cost, making 1% listing fees more than just possible – they're more fair.
Trelora charges 1% for listing services, with 2-3% suggested for the buyer's agent – saving home sellers up to 50% in listing fees. 
Some listing agents claim you "get what you pay for" when you don't pay them 3%. If this were true, we would expect Trelora's reviews to reflect this. Clients would be upset because of the poor service they received, and Trelora's ratings would be sub-par. 
Instead, Trelora has some of the highest ratings in the industry, with an average rating of 4.9/5 stars across multiple platforms and thousands of reviews. 
Example of a positive review on Google.
Many sellers find that they receive comparable, if not better, service from agents offering 1% listing fees compared to those charging the standard 3%. It's no surprise that it's led sellers to question the justification for the higher fees.
1% Lists Allow You to Maximize Your Profit
One of the reasons many people become homeowners is that they want to build their personal equity, and homeownership is one of the most reliable ways to do that. Homeownership is especially important for families who want to start building generational wealth.
The more equity you have to give up when you sell your home, the less money you can bring to your next home – and the less equity you have to tap into.
A 1% listing fee allows you to keep more of your hard-earned equity, maximizing your profits – and helping you achieve your financial goals sooner.
1% Listings are More Transparent
There has been a paradigm shift in how we evaluate businesses. As noted in Forbes, transparency in business is no longer an option; it's a must.
The shift towards 1% listing fees aligns with the growing demand for transparency in the real estate industry. It does cost money to sell a home, and agents should be compensated for their time and knowledge. Sellers, however, shouldn't be milked for every last dollar they have simply because the fee structure has remained unchanged for half a century.
And 3% listing fees made a lot more sense before technological advancements made it quicker and easier to list and sell a home.
Consider: the old, carefully constructed paper catalogs that you'd have to pore over to find homes have been replaced by colorful, easy-to-understand listings online. Comparable market analysis of homes that have sold nearby (CMAs) used to be something agents had to look up one by one; now CMAs populate immediately on sites like Redfin, allowing you at least get an idea of whether homes are appropriately priced for the area.
Decades ago, sellers were more reliant on agents to market their homes to their brokerage's Rolodex of current clients and agent relationships. Today, however, online listings do a lot of the heavy lifting when it comes to finding buyers.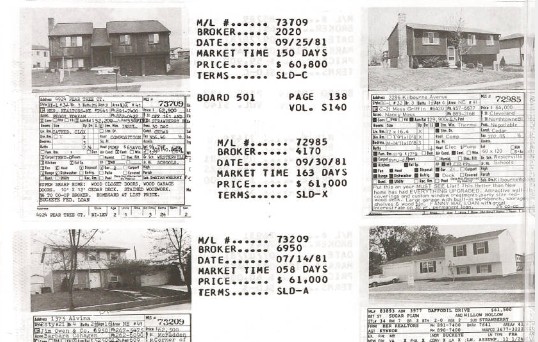 Here's the MLS your agent used to have to sift through (Columbian Metropolitan Library)
What Do 1 Percent Commission Realtors Offer?
So what exactly is included with a 1% listing model?
What you'll get varies by brokerage. Some agents offering 1% listing commissions will give a more bare-bones experience. You might be responsible for things like the signage, photography, and any open houses yourself.
It's not a good idea to opt out of services like professional photography, since imagery can have a profound effect on how quickly your home sells, and for how much, due to the reality of 99% of homebuyers starting their home search online.
Trelora and its sister company Houwzer (both members of Newfound) offer a full-service experience despite the 1% fee. 
This includes:
Expert agent guidance
Home valuation
25 professional HD images
360 virtual tour
Listing on the MLS and syndicated to 66 platforms
Professional marketing
Yarn signage
Negotiating offers
Open house
Every agent is also backed by a team of logistics coordinators who help keep the deal on track, and answer any questions home sellers might have.
Can I Offer 1% to the Buyer's Agent?
We've talked about the listing fee, but what about the buyer agent's fee – which sellers also have to pay? You can offer 1% to the buyer's agent if you like. However, we generally recommend a minimum of 2% (the exact number recommended depends on local market norms). Because buyer agents can check the commission associated with each home, they tend to turn buyers away from properties with 1% buyer agent fees.
There are currently two multimillion-dollar lawsuits pending against the National Association of Realtors asking for a "de-coupling" so that sellers are not obligated to pay the buyer's fees.
Until that happens, though, home sellers have to weigh risk with reward. Is saving 1% worth potentially turning multiple buyers away from the home? Most don't think so.
Find a 1 Percent Commission Realtor Near You
There are several 1% listing commission brokerages around the country – here are a few of the big names.
Say Hello to 1% Listings: The Future of Selling Homes
The real estate industry is evolving, and skyrocketing home prices in recent years have only accelerated the changes on the horizon.
It's time for an honest reevaluation of traditional real estate commission structures, and whether the norm of 3% for listing services is truly fair. 1% listing fees are no longer hypothetical – they've been tested in the real world, and clients have responded positively to the experience.
The emergence of 1% listing fees offers a compelling alternative for sellers looking to save money – without sacrificing quality service. Mari Rogers is an experienced content manager specializing in real estate. She provides valuable perspectives on the latest trends and news in the field. In the moments she's not imagining the possibilities of every derelict property on Realtor.com, she's hanging out with her longtime (feline) companion Olivia Benson.