Buyers who heard about the crazy competitive market of last year should be advised: homes are now sitting on the market for longer, so if you're not sure about a property, you likely have time to think it over. November '22 (the latest month on record) saw homes on market for a median of 56 days – that's a week longer than the same time last year (49 days).
If you know one thing about the 2022 real estate market, you know it was turbulent. Would-be home buyers are entering 2023 with a healthy dose of skepticism. They're not going to buy a house sight unseen, and they're not going to bid 20% over-asking and hope for the best.
Experts are predicting that the market will be appreciating more slowly than it did before, but nevertheless, the average price will likely climb by 1% – so buyers are going to need to be on their toes if they want to find an affordable home.
If you're planning on buying a house in 2023, it helps to be prepared.
We've talked to an experienced Realtor about what homebuyers can do to get ahead: here are 9 real estate tips for buyers.
1. Improve your credit score
Many buyers are unaware of how much of a difference their credit score can make when it comes to they can be approved for, as well as their monthly payments.
From How do People Afford Houses?, here's the difference between a low and a high credit score when it comes to monthly mortgage payments for a $430,000 loan with 10% down:
740-759: $3,091/month
680 – 699: $3,215/month
620-639: $3,424/month
The good news is that you can improve your credit score over the course of a single year – and some changes can make a difference within a few months.
It's a good idea to work with a credit counselor or mortgage advisor on this, though, because sometimes the things that make a better credit score are counterintuitive. Asking your credit card company to raise your maximum limit, for example, doesn't look bad – it actually helps your credit because it improves your credit utilization score.
2. Choose your agent carefully
Homebuyers tend to underrate the role of the real estate agent in the transaction, assuming that their own research and home searches on sites like Zillow and Realtor are replacing the bulk of their agent's work. Finding a house, though, is a small fraction of an agent's potential duties.
The difference between a good agent and an unprepared agent is never so stark as when there is a snag with the home sale – and it's almost impossible to get through a real estate transaction without some problem(s) arising.
An inexperienced agent can cost you thousands of dollars in savings if they drop the ball on negotiating.
"One mistake an inexperienced agent can make is following the whim of the listing agent. Especially if you're working with a listing agent that's been at it for 30 years – that listing agent is absolutely going to try and impose their will on you," explains Virginia-based buyer agent Brian Bauer. "An inexperienced agent won't necessarily know when they can flex their muscles and say 'No, we're going to do this.' Knowing the job, the finer points of the job, are wide open to getting pushed around by an experienced agent."
3. Be patient
Inventory is down right now – it's easy for homebuyers to feel anxiety when they check out the local real estate market and there are only five homes available that fit their "must have's."
The key is not to panic and rush into anything.
"A lot of times my buyers see the 10 homes that are in their price range, and they feel pressure to go with the 'B-minuses', even though there's nothing they really love," explains Brian. "And I tell them: be patient, stuff will come on, it's a less competitive market and when it does come on, you can take your time. Unless it's really underpriced, you probably have the opportunity to give it a few days."
4. Shop around for a loan
Not enough home buyers know that shopping around for a loan and exploring multiple loan options can help lower your interest rate and/or monthly payments. With the mortgage rate far higher than it was last year, it's prudent to know your options.
Lenders offer slightly different rates from each other, and surprisingly it's not always the big banks who offer the best rates. Buyers today can also explore alternative loan options, like ARM loans.
While many people have a gut reaction of "heck no!" to adjustable rate mortgages, what's important to note is that ARMs are front-loaded with a set fixed rate.
A 10/1 ARM, for example, comes with a 10-year fixed rate. For many people buying a starter home – who weren't planning on owning their home for the entire 30-year term – this is more than enough time. In the meantime, you'll benefit from the lower fixed rate ARMs receive.
A lot of would-be homebuyers are wondering how mortgage rates will shake out in 2023. The truth is, no one knows for sure. We saw plenty of industry experts under-predict last year's meteoric rate rise, and the same will likely be true this time around. Here's what some are saying:
And the truth is, high interest rates aren't all doom and gloom for buyers.
"I tell clients about the advantage of the high-interest rates: there's less competition. You can buy and get what you want right now and then when the rates do eventually do go down, you can refinance," recommends Brian.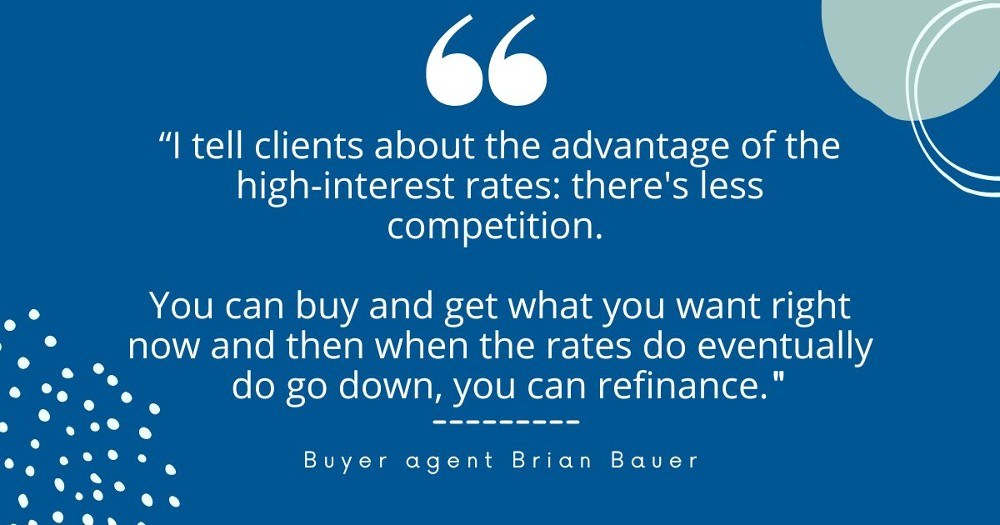 5. Don't ignore your agent's advice
Your Realtor's advice comes from years of experience and from working on countless deals – so don't ignore it. Plenty of buyers get frustrated with the homebuying process precisely because they have a pre-set idea of what their buying experience "should" be like – and have trouble adjusting to reality.
"Listen to your agent, because your agent is the one who has their finger on the pulse. A lot of times people have an idea from talking to a neighbor or colleague – but listen to your agent, it's what they do full time," explains Brian.
6. Understand the local market
Now more than ever, it's good to know what direction your potential neighborhood is going in. Are there new developments or new storefronts nearby that could continue to draw people to the area – or are there visibly neglected areas? A neighborhood that's drawing people in will help increase your home's property value.
"More than anything, understanding the local market means you have a sense of how much urgency or lack thereof that you need to have when you're looking. You can't fall in love with the first place, you don't have to – you should take the time, put in a little research/due diligence. Just to make sure you're getting the house you want at the right price," explains Brian.
7. Opt for a smaller home than you planned, if necessary
If you're worried about monthly mortgage payments, sometimes the solution can be as simple as buying a smaller home than you originally planned on. Most buyers today aren't looking for their forever home anyway, so dealing with a little less storage space than you planned on – or a slightly less luxurious kitchen – can be a way to get a house closer to your ideal price range.
"Shoot a little bit lower. If you were thinking about the 650s, then think about the 610s or 600s. And if possible, bring more money to the table. If you can finance less, there's less you're adding on interest-wise."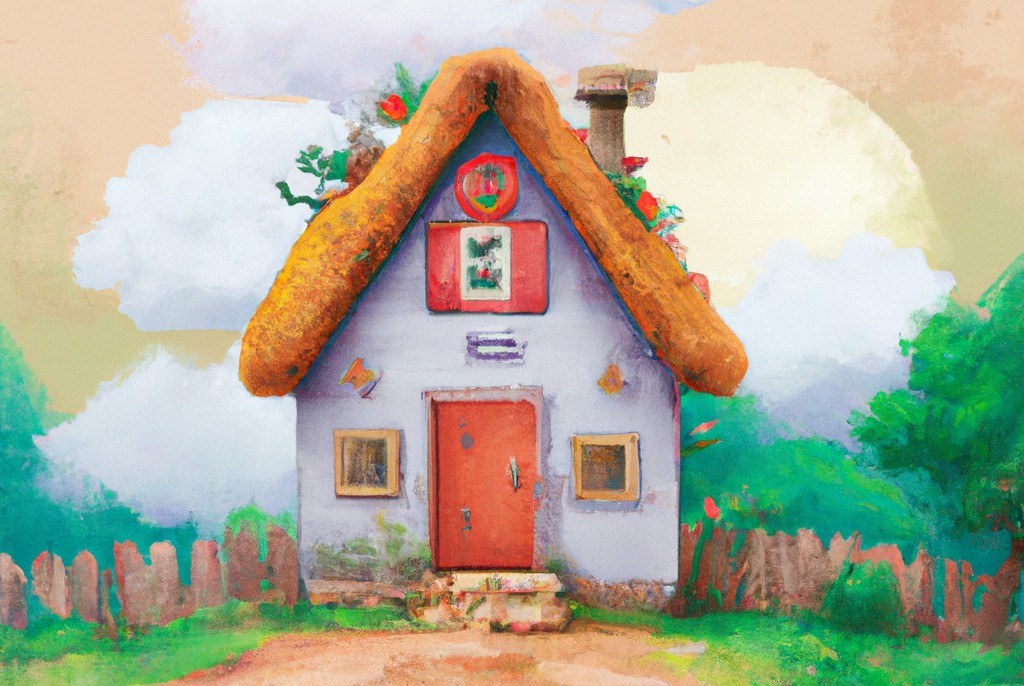 8. Negotiate, negotiate, negotiate
Although it's still a seller's market on paper, sellers are definitely nervous about the market right now – which means it's a great time to push for what you want and get the contingencies that benefit you. A year ago, many home sellers had 20 offers to choose from and would go for the buyer offering no inspection, all-cash. Today, that same home seller is receiving a handful of offers at best.
What you negotiate for ultimately depends on what matters most to you. If the house's kitchen is hopelessly outdated, offer under asking. If you're worried about not having enough money to cover the 15-year-old HVAC if it dies next year, ask for a 1-year home warranty.
With that said, be realistic about what you're asking for.
"You can turn off a seller even in this market really quick if you come in super cheap and just assume that they're that desperate to get rid of something that they're willing to go some ungodly figure underneath asking," explains Brian. "Tell your agent to make sure that they run comps. We want to make sure that the houses that there's grounds for that negotiation, see if they can find something similar at a similar pricepoint, and you can use that as your main piece of evidence."
9. Figure out your home buying timeline
2023 can feel overwhelming, but it doesn't have to be if you have a plan in place. Understanding your home buying timeline can help you figure out your game plan.
Questions you should be able to answer include: how long will it take to get pre-approved? How long will it take to find a home, on average? How long will it take to close? And if you have a rental lease, how will that impact your deadlines?
2023 is… a lot. Should I wait to buy a house?
Is 2023 a good year to buy a house? If you're looking for the ideal market conditions for a buyer, the short answer is probably not. The trouble with waiting for the perfect scenario or market forces, however, is that it might take a long while to arrive. If it ever does. There are plenty of reasons to believe that market forces will continue to work against buyers for the next several years.
The better plan is to educate yourself on the current market, figure out your budget and start plotting out your home buying timeline. Buying a house now allows you to build equity today – rather than waiting until tomorrow. Mari Rogers is an experienced content manager specializing in real estate. She provides valuable perspectives on the latest trends and news in the field. In the moments she's not imagining the possibilities of every derelict property on Realtor.com, she's hanging out with her longtime (feline) companion Olivia Benson.